Beringer Vineyards
Type
Table
Varietal
Private Reserves
Single Vineyards
Distinction Series
Regional Estates
Founders Estate
Classics & Sparkling
Los Hermanos
Modern Heritage
Country
USA
State
CA
Company
Beringer Vinyards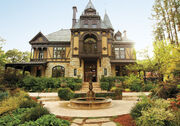 Napa Valley roots
Passion has the wonderful power to turn mere objects into an obsession, to transform everyday tasks into art. At Beringer, They have been living our passion for over 138 years.
Their history dates back to the year 1868, when Jacob Beringer, enticed by the opportunities of the new world, sailed from his home in Mainz, Germany, to New York. However, after hearing that the rocky hillside soil and fertile valley floor resembled that of vineyards back home in Germany, Jacob made his way to the Napa Valley. Jacob and his brother Frederick purchased 215 acres of land in 1875, and became one of the first wineries in Napa Valley.
Since then, they have honed, deepened, and expanded the art of winemaking. They pursue balance between modern technology and time-tested winemaking traditions, resulting in wines of global recognition.
Ad blocker interference detected!
Wikia is a free-to-use site that makes money from advertising. We have a modified experience for viewers using ad blockers

Wikia is not accessible if you've made further modifications. Remove the custom ad blocker rule(s) and the page will load as expected.