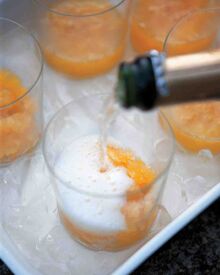 Perfect recipe for a hot summer day. Source: Martha Stewart
Ingredients
Edit
4 1/2 cups fresh orange juice (from 14 oranges)
3/4 cup superfine sugar
Elderflower liqueur, such as St-Germain
2 bottles (750 mL each) Champagne
Directions
Edit
Combine orange juice and sugar, and stir until sugar dissolves. Transfer to an 8-inch square baking dish. Freeze, scraping around sides and breaking any lumps with a fork every 30 minutes, until evenly frozen, 2 1/2 to 3 hours. Cover with plastic wrap. Granita can be made 1 day ahead and kept in freezer until ready to serve.
Spoon 1/2 cup granita into each of 12 glasses, and add 1/2 teaspoon liqueur. Top off with Champagne.
Ad blocker interference detected!
Wikia is a free-to-use site that makes money from advertising. We have a modified experience for viewers using ad blockers

Wikia is not accessible if you've made further modifications. Remove the custom ad blocker rule(s) and the page will load as expected.