Duckhorn Vineyards
Type
Table
Varietal
Merlot
Cabernet Sauvignon
Sauvignon Blanc
Chardonnay
Cabernet Franc
Red Blend
Petit Verdot
Sémillon
Country
USA
State
CA
Company
Duckhorn Vineyards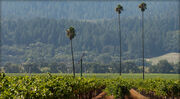 Co-founded by Dan and Margaret Duckhorn in 1976, Duckhorn Vineyards has spent more than 30 years establishing itself as one of North America's premier producers of Bordeaux varietal wines. From its modest inaugural vintage of 800 cases of Cabernet Sauvignon and 800 cases of Merlot in 1978, to its addition of Sauvignon Blanc in 1982, Duckhorn Vineyards has crafted a tradition of quality and excellence that continues today.
Today, the winery's seven estate vineyards are located in alluvial fans of the Napa Valley as well as on the coveted slopes of Howell Mountain. Winemaker Renee Ary has numerous vineyard blocks to choose from, each offering markedly different flavor profiles.
Ad blocker interference detected!
Wikia is a free-to-use site that makes money from advertising. We have a modified experience for viewers using ad blockers

Wikia is not accessible if you've made further modifications. Remove the custom ad blocker rule(s) and the page will load as expected.